(Last Updated On: December 27, 2022)
Photo of the canyon walls and river at The Narrows Hike at Zion National Park
This is a beautiful picture of part of The Narrows Hike located in Zion National Park in Utah. The river canyon has blue skies above on this sunny, summer day. The Narrows hike is a very popular hike in this national park. It contains the narrowest section of Zion Canyon with the Virgin River running through. Getting your feet wet and walking in the river is mandatory for this hike! This is what makes this hike unique. For some of the hike you are able to walk on land next to the river, but a lot of the hike you have no choice, but to hike in the river. Water shoes or sandals are a must if you want to be comfortable on this hike. Lots of people also use a hiking stick to help with not falling over into the river while walking on the slick river rocks.
I photographed the photo below in August of 2021 when my family and I went on a two-week road trip to 9 national parks. Our first stop was at Zion National Park. The temperature was in the high 90's when we were there, so hiking The Narrows hike definitely felt good. We didn't have very much time at Zion before we had to go to our next adventure, so this popular hike was one of the few things we got to do. For most of our hike we had blue skies like in this photograph, but at the end of the hike dark clouds came out of nowhere. We just reached the shuttle bus to go back to our hotel when it started to pour down rain.
The Narrows Hike, Zion National Park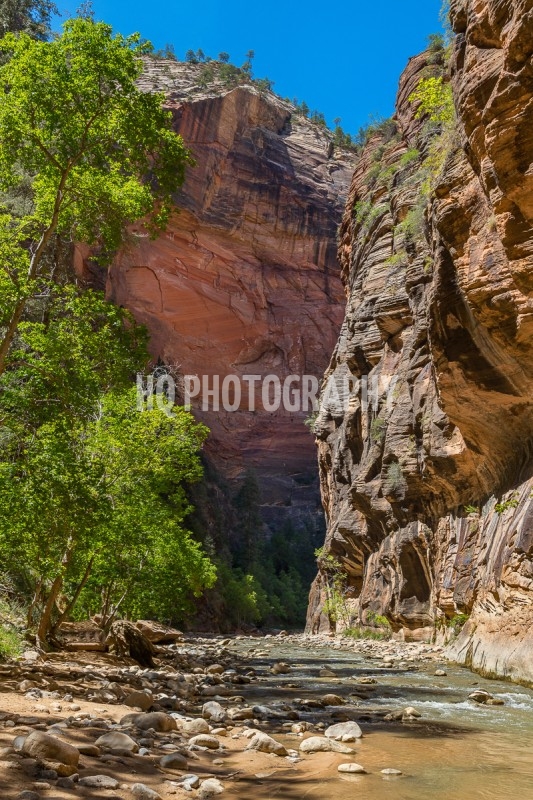 The hike is 16 miles long, but most people just hike in for a few miles and then turn around and hike back out. My husband, two daughters, and I hike about 4 miles in, and then we turned around and came back. It was a wonderful experience and my kids loved it!
Look at the gallery below to see some more of my Zion National Park photos that I have photographed. The gallery below contains the photo above as well as other related pictures. This photo is available to buy as a print or digital download.

I started out using 35mm point and shoot cameras, then upgraded to a 35mm DSL camera, and then finally came the world of digital DSL cameras. Gone are the days of having to wait for your film to be developed to see what you captured. Photography has never been so much fun!